The different ways to use the Walkezee
1/ With a coupling attachment that gives even pressure across the chest and control from the top, good with extending leads, dogs that weave when walked, small dogs and puppies.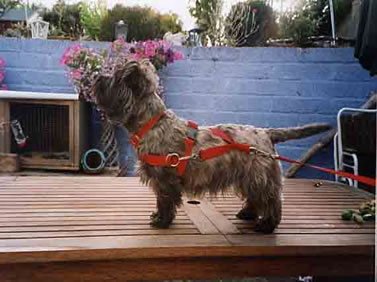 2/ Reins that clip to both sides of the chest strap given even pressure again but with central control further down the dogs body. Also allowing you to lightly send vibrations down one side of the chest strap or the other to keep the dog focused. They also allow you to drive the dog like a small pony!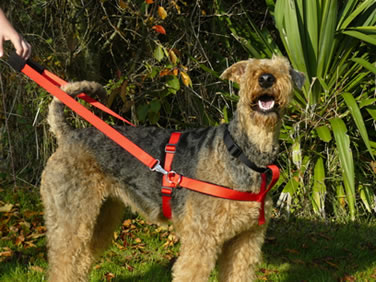 3/ Attach 1 lead to the collar and 1 to the side of the Walkezee closest to you, which gives control from two areas. This is effective in later training as the dog can be walked with contact on either collar or chest strap. Also good to use on aggressive confrontational dogs as the collar contact allows you to remove eye contact.
4/ With the lead attached to the end of the chest strap closest to you, which gives uneven pressure across the chest- suitable for fully-grown dogs that pull.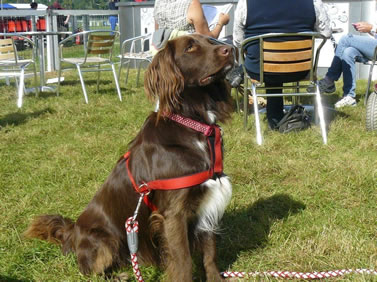 5/ Clip your lead to the opposite side then take it across the chest, which then gives double contact on the chest which works wonders on very excitable strong dogs like my Airedale!
6/ Applying 2 leads or double ended/training lead – clipping 1 on each side of the chest strap allowing even pressure. This way helps to balance your dog and gives you the ability to take contact from either or both sides. Especially good on very big dogs!!
Never allow a dog to just lean into the chest strap and pull you along!
I believe that training your dog to understand that pressure on the chest strap is not good and results in a stop or a circle followed by lightly shaking of the lead (chest strap) to release the pressure thus rewarding the dog with backup of praise and/or treat.
WALKEZEE IS TO BE USED TO WALK YOUR DOG ON A LEAD NOT FOR SWIMMING, CAR OR BOAT SAFTEY.